The Tarot Garden store
---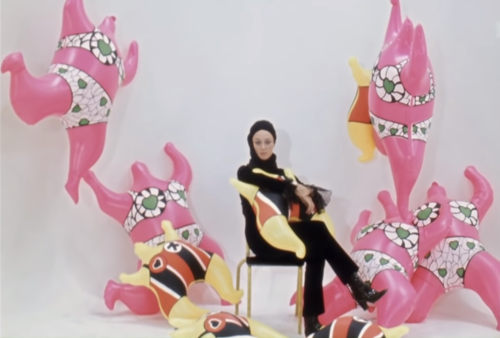 Film-still Niki de Saint Phalle by François de Menil and Monique Alexandre, 1960's.
Courtesy of Menil Archives, The Menil Collection, Houston © François de Menil
"I thought it was a shame that everyone couldn't afford to have a work of art. These are for sale in stores for 2, 4 or 8 dollars. So they are a mass-produced art object."
- Niki de Saint Phalle, quoted from the film Niki de Saint Phalle by François de Menil and Monique Alexandre, 1960s.
In 1968, Saint Phalle created her first "inflatable" Nana, and titled it "Nana ballon".
Initially, they were distributed by the artist to children in Harlem, New York during the installation of the Paradis Fantastique in Central Park.
Saint Phalle soon realized how editions, series, jewelry, prints and a variety of mass-produced objects could give her financial independence. It enabled the artist to continue being her own patron and finance various projects, mainly the construction of the Tarot Garden.

Once most of the structures for the Tarot Garden were built, Saint Phalle created merchandise specifically for the garden. Still today, all the proceeds from the e-shop and the museum shop help support the Tarot Garden and its conservation.
The Tarot Garden Foundation continues the production with manufacturers who worked with Saint Phalle. New vendors have been added to the roster to ensure quality and integrity for our customers. The majority of items in our e-shop are made in Italy and Europe in extension.
You can also find all our products at the Tarot Garden museum store, Capalbio - Italy.
www.ilgiardinodeitarocchi.it