Niki de Saint Phalle's Tarot Garden
---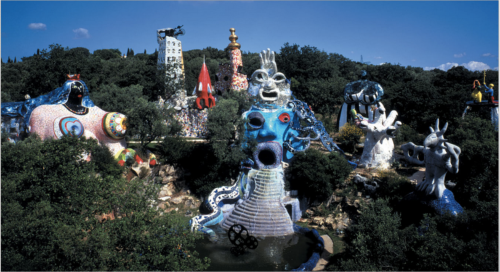 Tarot Garden overview © Photo: Laurent Condominas
« In 1955, I went to Barcelona. There I saw the beautiful Park Guell of Gaudi. I met both my master and my destiny. I trembled all over. I knew that I was meant one day to build my own garden of Joy. A little corner of Paradise. A meeting place between man and Nature. Twenty four years later I would embark on the biggest adventure of my life, the Tarot Garden. » - Niki de Saint Phalle

From 1978 until her death in 2002, Niki de Saint Phalle embarked on the most ambitious artistic adventure of her career: the Tarot Garden, a vast sculpture park representing the 22 Major Arcanas of the divinatory tarot.

The sculptures were made with iron reinforcements, covered with projected concrete, then mirrors and ceramics. The ceramics were made (moulded and baked) on site, and handcrafted. To finance the construction, Niki de Saint Phalle decided to be her own patron and created a perfume, multiples and limited editions. Saint Phalle created a boutique to help support the Garden.
The Tarot Garden has been officially opened to the public since May 1998.
Each year, it is possible to visit the Tarot Garden from April 1st to October 15th.